*The following offers are for those seeking training certification only*

3D Movement Analysis & Performance System (3DMAPS)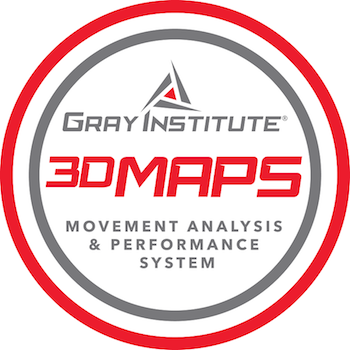 Overview:
Real life, real challenges. Whether your patient is a casual golfer or star athlete, determining the right approach to treatment can be challenging. That's why the Gray Institute offers an innovative, effective, and comprehensive approach to patient rehabilitation. Three-Dimensional Movement Analysis and Performance System (3DMAPS) leverages movements that are authentic to everyday life by utilizing all three planes of motion. This system allows the practitioner to examine, evaluate, and treat patients based on the philosophy that the influence of one part of the body affects another.
3DMAPS is the most innovative way to effectively analyze the function of the entire body in an efficient, revealing, and evidence-based manner. This certification equips you, the movement professional, with the content, competence, and confidence to meet the needs, wants, and goals of all of your patients and clients. Unlike any other movement screen, 3DMAPS is a movement analysis and performance system that efficiently analyses the three-dimensional movements and abilities of all individuals in all of human function. 3DMAPS boils down all of human movement (the three-dimensional interaction of joints, muscles, and proprioceptors) into 6 Vital Transformational Zones, adapts these movements within Mobility Analysis Movements (assessing range of motion) and Stability Analysis Movements (assessing control of motion), and empowers you to then prioritize the best and most logical progressions in serving your patients and clients better.
Content:
10 HOURS OF ONLINE + 8 HOURS LIVE
PROFESSIONALLY-DEVELOPED & DELIVERED VIDEO ASSETS OF 3DMAPS CONTENT
Applied Functional Science® / Science of Movement Functional Spectrum
Principle-Strategy-Technique Process
Applied Functional Science® Nomenclature
6 Vital Transformational Zones
6 Chain Reactions®
Mobility Analysis Movements
Stability Analysis Movements
Biomechanics of Primary Complexes
Range of Motion / Shape of Analysis Movements
Control of Motion / Quality of Analysis Movements
Relative Success Spectrum
Analysis & Documentation
14 "Mostability" Performance Progressions / Matrices ONGOING ASSETS
Exclusive Access to 3DMAPS Exercise Library & App
Continued Educational Support via GrayInstitute.com
Benefits:
1. Provides the knowledge and skillset to analyze the entire three-dimensional spectrum of human movement and have access to a functional and robust performance system for ongoing enhancement with no equipment.
2. Addresses real-life function by observing natural upright movements of the body as it deals with gravity and ground reaction forces using 6 vital transformational zones.
3. Analyses both the range of motion and control of motion throughout the entire body and through all 3 planes of motion. Through 6 mobility and stability analysis movements, all 66 joint motions of the primary complexes are covered. The movement analysis results in a relative success code that is unique to each individual and provides directions to enhance the overall functioning of the individual.
4. Consists of 14 mobility and 14 stability progressions to enhance the overall functional abilities of the individual allowing all individuals to progress towards their needs, wants, and goals.
Live Course Details:
Presentor: Benson Poh
Date & Time: 8th July, 9am - 5pm (8 hours)
Venue: TripleFit Singapore, 9 Raffles Boulevard, #02-63, Millenia Walk, Singapore 039596
Course Fee: S$750
__________________________________________________________________________________________________________________
Certification in Applied Functional Science (CAFS)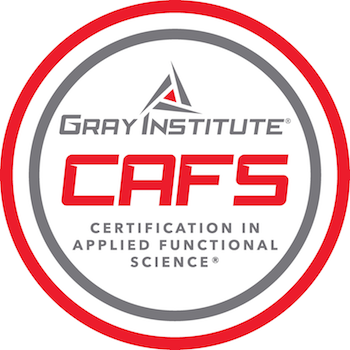 Overview:
Your clients are unique. Why settle for a treatment program that approaches every case the same? Arm yourself with the premier certification that gives movement professionals the tools to develop custom assessment, treatment, and training programs tailor-made for each individual. CAFS® is the first certification of its kind that will empower the movement professional to create treatments and programs for the client's specific needs based on their individual abilities and goals.
CAFS is the first certification of its kind that will empower the movement professional to treat and train every client as a unique individual. There are no universal protocols or screens that apply to all clients. Instead, CAFS will reveal a process of observation and manipulation to identify dysfunction and create treatments and programs for the clients' special needs based on their individual abilities and goals.
Content:
The Process of Applied Functional Science®
10 Observational Essentials of All Movement
The 8 Fundamental Movement Patterns
Endless Assessment and Movement Variables
The Local/Global Movement Continuum
4 step process to Individualized Program Design
Functional Movement Assessments
How to utilize Local and Global assessments and corrections for the following areas: Foot/Ankle Lumbar Spine Knee Thoracic Spine Hip Cervical Spine Shoulders
Benefits:
1. Empower practitioners from any movement industry with the principles and processes of applied functional science.
2. Designed for both beginning and experienced movement professionals.
3. Learn structured, practical, application of applied functional science at your own pace.
4. Learn to creatively and effectively assess, treat, and train your client based on their own individual needs and goals by establishing the 8 fundamental movement patterns and 10 observational essentials of human movement.
5. Master techniques that seamlessly transition from more isolated local applications to dynamic global movements which are complemented by additional explanation and various adaptations of the technique utilizing different tweaks from the 10 observational essentials.
6. Gives you a system for endless variations on movement assessments and performance enhancement.
7.Obtain a program design module outlining strategies/progressions for different desired outcomes that can be adapted to any training/treatment program to continue giving clients progressive and functional results based on their daily needs and goals.
Course Details:
Presentor: Benson Poh
Date & Time: 14th - 15th July, 9am - 5pm (8 hours)
Venue: TripleFit Singapore, 9 Raffles Boulevard, #02-63, Millenia Walk, Singapore 039596
Course Fee: S$1000
__________________________________________________________________________________________________________________
Bundle Courses:
3DMAPS (8th July)
Certification of Applied Functional Science (14th - 15th July)
Bundle Price: S$1500 (normally S$1750, save S$250!)
Bundle and SAVE S$250 here!